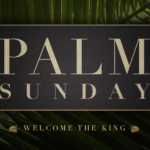 March 28, 2021
Palm Sunday – Matthew 21:1-11
On March 28, 2021, Pastor Eric looked at the details surrounding the very first Palm Sunday, as described in Matthew 21:1-11:
Now when they drew near to Jerusalem and came to Bethphage, to the Mount of Olives, then Jesus sent two disciples, saying to them, "Go into the village in front of you, and immediately you will find a donkey tied, and a colt with her. Untie them and bring them to me. If anyone says anything to you, you shall say, 'The Lord needs them', and he will send them at once." This took place to fulfill what was spoken by the prophet, saying, "Say to the daughter of Zion, Behold, your king is coming to you, humble, and mounted on a donkey, on a colt, the foal of a beast of burden." The disciples went and did as Jesus had directed them. They brought the donkey and the colt and put on them their cloaks, and he sat on them. most of the crowd spread their cloaks on the road, and others cut branches from the trees and spread them on the road. And the crowds that went before him and that followed him were shouting, "Hosanna to the Son of David! Blessed is he who comes in the name of the Lord! Hosanna in the highest!" And when he entered Jerusalem, the whole city was stirred up, saying, "Who is this?" And the crowds said, "This is the prophet Jesus, from Nazareth of Galilee.
The three highlights of this passage are:
There is no fulfilment of prophecy until the donkey is untied.
The prophecy was fulfilled when the donkey was untied. The donkey represents humility. Jesus was coming in peace and to fulfill prophecy. There are many parallels between the church today and the donkey. The donkey is a messenger of peace: a means of transportation for Jesus. God lives inside His people. Christians are a vehicle for Jesus. Matthew 5:9 says:
Blessed are the peacemakers because they will be called children of God.
God can help us detach from anyone or anything that hinders us and keeps us from accomplishing His will.
Anything and everything can change in a day.
When Jesus arrived on a donkey, people were cheering and shouting "Hosanna!" on Sunday, then, on Thursday they arrested Him, and on Friday, they crucified Him. Jesus went from hero to death on a cross. Today, some people cheer for Jesus on Sunday, but deny Him on Monday. We need to adapt to change. We need to be ready for when that change does come, so we can be Christ's ambassadors.
Jesus respects and fulfills prophecy.
Jesus is a God of order with a plan. He wanted to fulfill prophecy. Jesus respected prophecy because it is not man-made: it is God-inspired. Through the use of a donkey, Jesus also revealed His humility. We are to follow in Jesus' footsteps and obey His will for our lives. Matthew 21:4-5: states:
This took place to fulfill what was spoken by the prophet, saying, … Behold, your king is coming to you, humble, and mounted on a donkey…  
In 2 Peter 1:21, we read:
For no prophecy was ever produced by the will of man, but men spoke from God as they were carried along by the Holy Spirit.
We are to put our faith and hope in it. We can trust biblical prophecies because they are God-inspired.
Watch video here: