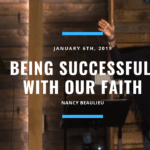 January 9, 2019
Being Successful with Our Faith
On Sunday January 6th, Nancy Beaulieu shared a message that inspired God's People to set up Godly Resolutions for 2019. The title of her message: "Being Successful with Our Faith"
Watch video here:

The Bible encourages us to examine our lives regularly and RESOLVE to change them as necessary. Here are four principles that will help us "Be Successful with Our Faith":
1: Be intentional about seeking Truth – "Why do you believe what you do? And how to those beliefs impact and transform your life?"
2: Be different – Knowing what God expects from us.
3: Be holy – Living for the Kingdom of God
4: Be intentional – addressing sin
Wrapped it all together by using the word LOVE. 1John 4:19 "We love because He loved us"
L – Learn
O – Obey
V – Verbalize
E – Evolve